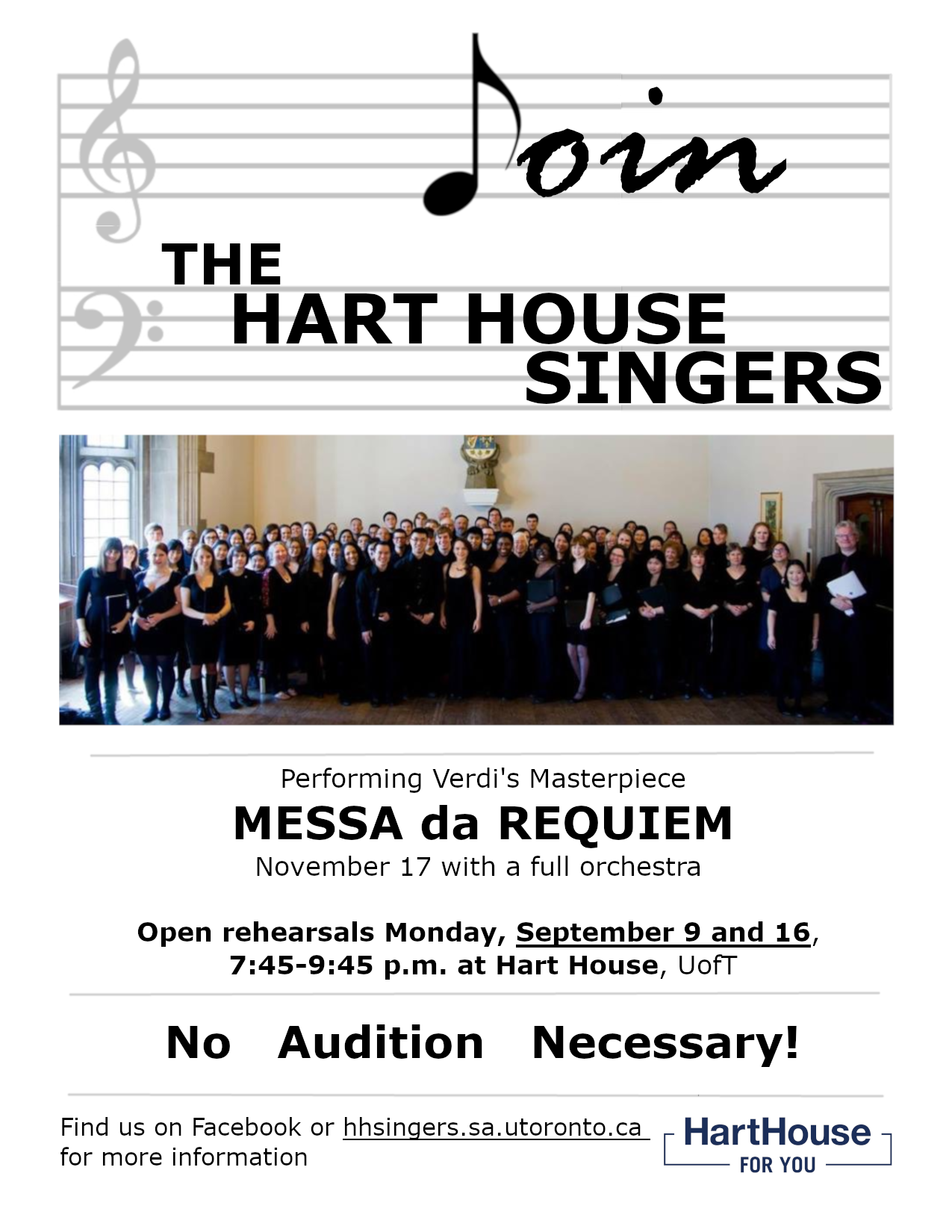 JOIN US
There are THREE WAYS that you can register for the Singers:
Come out and join us at one of two registration dates, before rehearsal (see below). Registration is on a first come first served basis. Also, you must register again for each term, even if you were a member the previous term and have paid an annual fee (see below for the fee schedule).
Have a friend register on your behalf, bringing your fees (if applicable) and identification. Note: One person can only register either him/herself OR one other individual in their absence, but CANNOT register both or multiple individuals.
If you are unable to do either (1) or (2), contact us by email (see below for opening dates), provide us with your name and voice part, and we will put you on the appropriate waiting list. Note: If on the waiting list, you are encouraged to attend rehearsals weekly and share music off your neighbour. We will take people off the waiting list as space becomes available in the choir.
The Hart House Singers' 2019 Fall session begins on Monday, September 9th, 7:45 to 9:45 p.m. Rehearsals are on each Monday evening, 7:45-9:45 p.m., from September 9th to November 17th, 2019, except for Thanksgiving. The fall concert will be on Sunday, November 17th, 4:00 p.m. Registration will be on September 9th and 16th, before rehearsal at Hart House 6:30 p.m. The first two rehearsals (September 9th and 16th) are also "open rehearsals" - you may attend either rehearsal and decide if you would like to join afterwards.
There will be an extra rehearsal in the Fall Sunday November 3rd, 3-5 pm at Hart House.
There is also a dress rehearsal before each concert. The dress rehearsal for the Fall 2019 concert is Saturday, November 16th at 10 a.m. to 1 p.m. The dress rehearsal for Winter 2020 will be Friday, March 13th from 7 to 10 p.m. Also there is a warm-up before the concert, this will be 2 p.m. for both the Fall and Winter concerts this year.
FEES!
Anyone who wishes to join the Hart House Singers now has both an ANNUAL and a TERM payment option. The annual option represents the least overall cost. The term options allow participants to have flexibility and to manage their registration costs differently if they wish. If you have paid a registration fee for either the fall (2019) or winter (2020) term, you are already covered for Summer fees and do not need to pay a fee for the Summer (2020) term.

The new fee structure for the Hart House Singers is as follows:
| | Student/Member* | Non-Member | Over 65 |
| --- | --- | --- | --- |
| ANNUAL REGISTRATION FEE | $25 | $225 | $165 |
| FALL REGISTRATION FEE | $15 | $120 | $90 |
| WINTER REGISTRATION FEE | $15 | $120 | $90 |
| SUMMER REGISTRATION FEE | $5 | $42 | $30 |
*"Student" means any student who has paid ancillary fees s part of their academic program; "member" refers to those who also have a full Hart House fitness centre membership.
Schedule
Notes
Summer May-July 2019
Fall Sept-Nov 2019
Winter Jan.-Mar 2020
First Rehearsal Date
Wednesday, May 31, 7:30 pm
Monday Sept. 9, 7:45 pm
TBA
Concert
Thursday July 11, TBA
Sunday, Nov. 17, 4:00 p.m.
Sunday, Mar. 15, 4:00 p.m.
Membership Fee*
see table above
as Summer
as Summer
Proof of payment of Singers club fee (must be ready by next rehearsal)
Everyone
Everyone
Everyone
REGISTRATION BY EMAIL
(waiting list only)
Opens May 31st
Opens Sept. 9
Opens Jan. 5
REPERTOIRE
See Repertoire section.
See Repertoire section.
See Repertoire section.
REHEARSALS
Wednesdays, 7:30-9:30 PM
Mondays, 7:45-9:45 PM
Mondays, 7:45-9:45 PM
OTHER IMPORTANT THINGS TO KNOW:
*Cash, debit or credit card are all acceptable forms of payment. **To join the Singers, you must provide proof that you have paid the club fee for the term or covering year. Even if you were a member of the Singers last term, you are still required to register for this term! Registration will be granted on a first come, first served basis. Note: If you are a soprano or alto, come especially early! Spots in the choir for these voices tend to fill up quickly. There is no audition. Singers of all levels are welcome to join!
MUSIC DEPOSITS
We no longer collect music deposits.